Before they were queens, kings, priests, and generals, they were young and afraid, fighting for an uncertain future.
Dive into the world of the bestselling saga, The Lost Pharaoh Chronicles, and discover why readers and listeners are raving about this series. The bundle includes the five 🌟🌟🌟🌟🌟 series prequel books with 800+ collective ratings on Amazon and Goodreads.

Dive into Ancient Egypt today! Buy now and 💰 SAVE 💰 on this exclusive prequel collection bundle.

Regular price
$49.95 USD
Sale price
$19.99 USD
Unit price
per
Sale
Sold out
Purchase Digital Items

Instantly Receive Link via Email

Enjoy the story on your favorite Device or with the Free BookFunnel App
For Direct Paperback Purchase

Exclusive Cover and Interior Formatting

Shipped Directly to You from Printer
Main Tropes and Themes
Self-Made Inspiration

Greed & Jealousy

Friends-to-Lovers
Coming-of-Age

Prisoner of War

Tragic Rose
Disunion

Found Family

Bittersweet Endings
The Prequel Bundle includes:
The Valley Iris

A forbidden love within a sacred village haunts her mind and troubles her future.

Even the vision granted to her from the goddess Hathor keeps Tey from the man she loves. Tey does not understand why her mother will not fight for her. She cannot see why his family does not accept her, until it is too late.

Is Tey doomed to live a life with someone else or with no one at all? Can she pick herself up in the darkness of the starlit night and seek her own happiness? ​

Find out in this coming-of-age drama set in the New Kingdom of Egypt.
Wife of Ay

Temehu, the daughter of Nomarch Paser, is expected to live a certain life, marry at a certain age to a man of certain status, and have children.

But in her attempts to pursue what she wants for her life, she finds herself questioning the fate of her heart on the journey to the afterlife. Enduring the wrath of a new jealous stepmother and the nobility's harmful gossip and ostracism does not soothe her reservations either.

Is she reaping divine punishment for her deeds? Will she find peace for her eternal soul?

Find out in this coming-of-age drama set in the New Kingdom of Egypt.
Paaten's War

Wounded in war. Captured by the enemy. Sold as a slave.

Despite his situation, Paaten believes his future is not in the enemy land of Hatti. As Paaten struggles to find his way back to his homeland of Egypt, he encounters a Hittite woman and finds himself in an unforeseen battle, waging the biggest war yet: that of his heart...

Will Paaten's perceived enemy ensnare his love and loyalty or will he return to Egypt to fulfill his destiny and oath to Pharaoh?
The Fifth Prophet

Power. Gold. Prestige. That is all he wants.

Young Pawah's life changes when he travels to Waset on his parent's hard-earned savings to become a scribe at the temple of Amun. Facing discrimination in Waset for being the son of a farmer among the wealthy elite, Pawah discovers the ease with which he garners sympathy and subsequent "pity gifts" of gold with lies and deceit.

Growing into his own on the streets of Waset, how far will Pawah take his ever-expanding greed for gold and power that hides behind his charm and wit?

Dive into this dark coming-of-age thriller that chronicles the villain of The Lost Pharaoh Chronicles.
Egypt's Second Born

Bullied by his brother and disregarded by his father, young prince Amenhotep seeks to belong.

Not expected to live as a babe, Amenhotep beats the odds only to find a life always in his brother's shadow and cast out from his father's glory.

Does Amenhotep succumb to the shadows of his father's great palace or does he rise above the ridicule to forge his own path?
More Details
Content Disclaimers

Author Rating:

The author rated this book for ages 14+ for violence, closed-door romance, child loss, child disability, parental favoritism, bullying, underage drinking (period appropriate), and adult themes. 
Product Information

eBook File Size: 5.6 MB

Audiobook

Narrated by: Josselyn Cambridge, Eli Snuggs
Series: The Lost Pharaoh Chronicles Prequel, Books I-V
Length: 30 hrs and 23 mins
First Release date: 09-27-22
Language: English
Other Purchase Options

Individual books are also available from your book retailer for their retail price.

However, the bundle is exclusive to the LLMBooks shop.
Share
View full details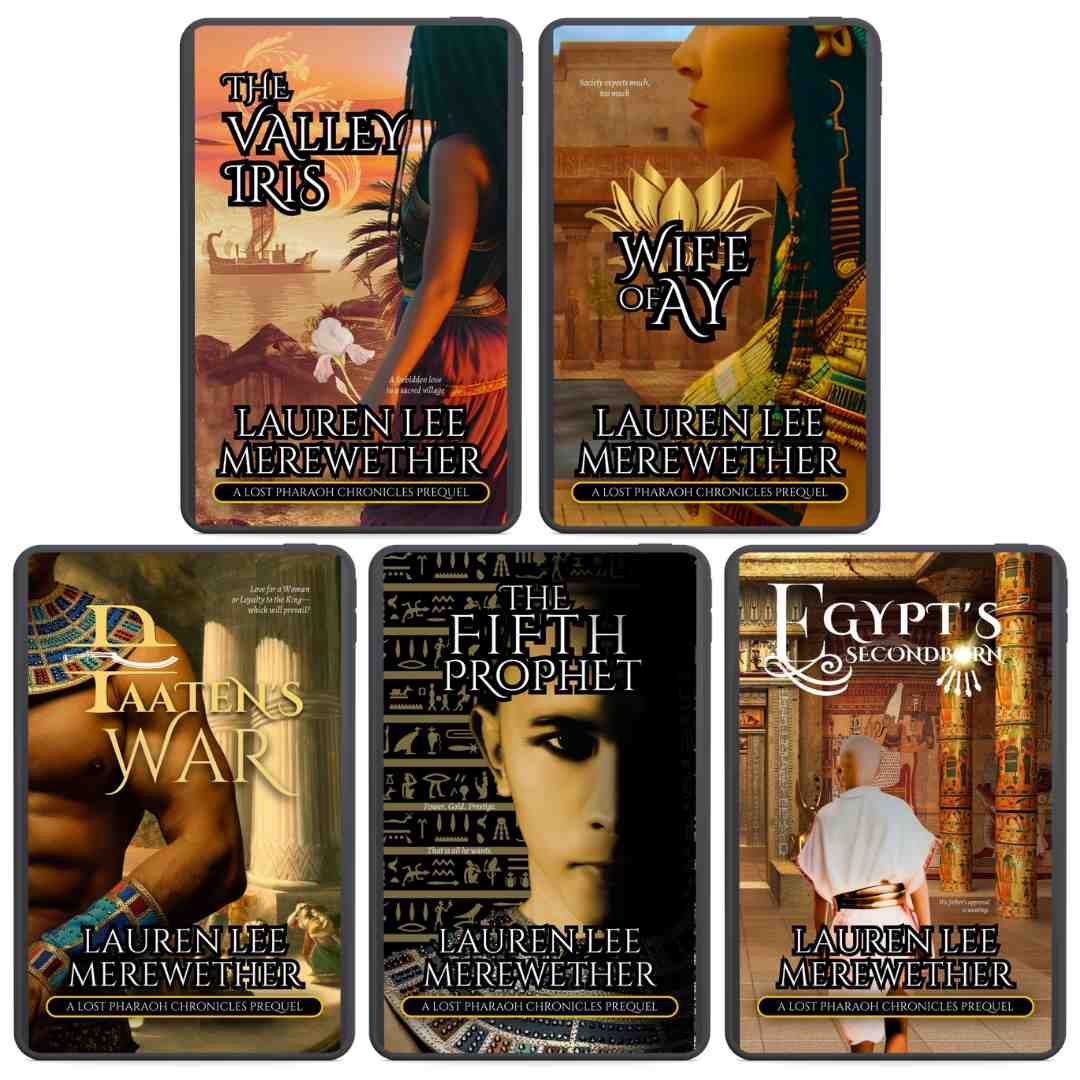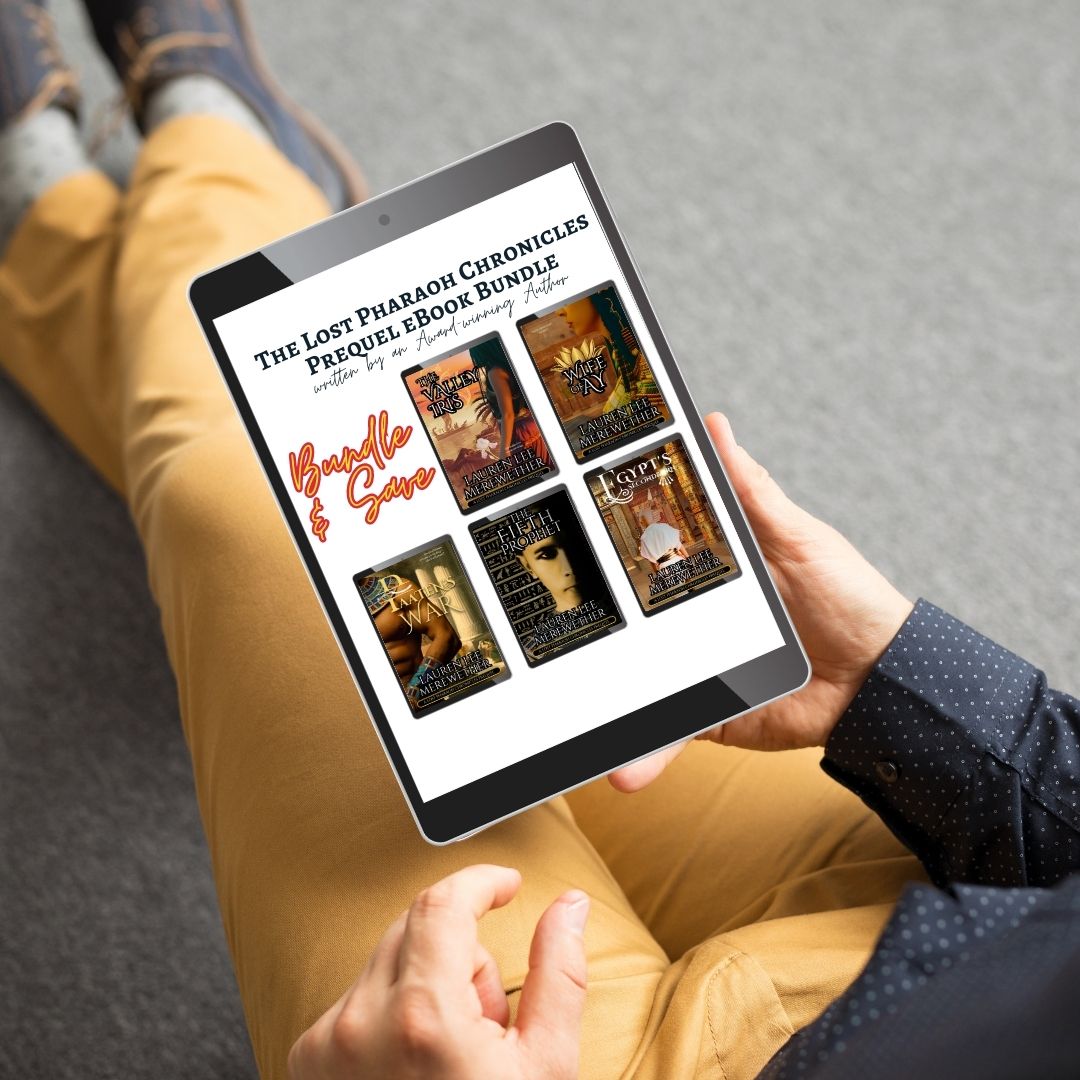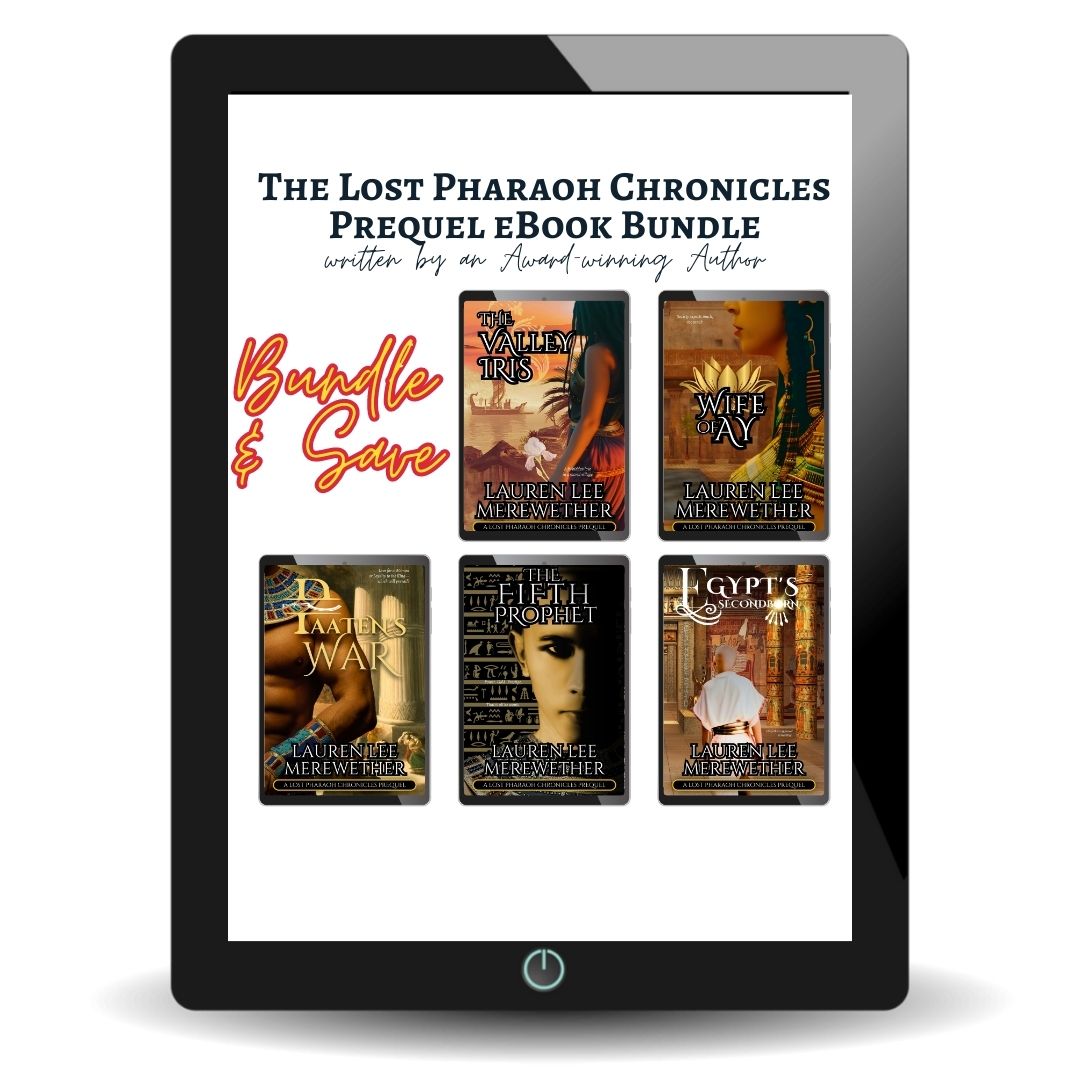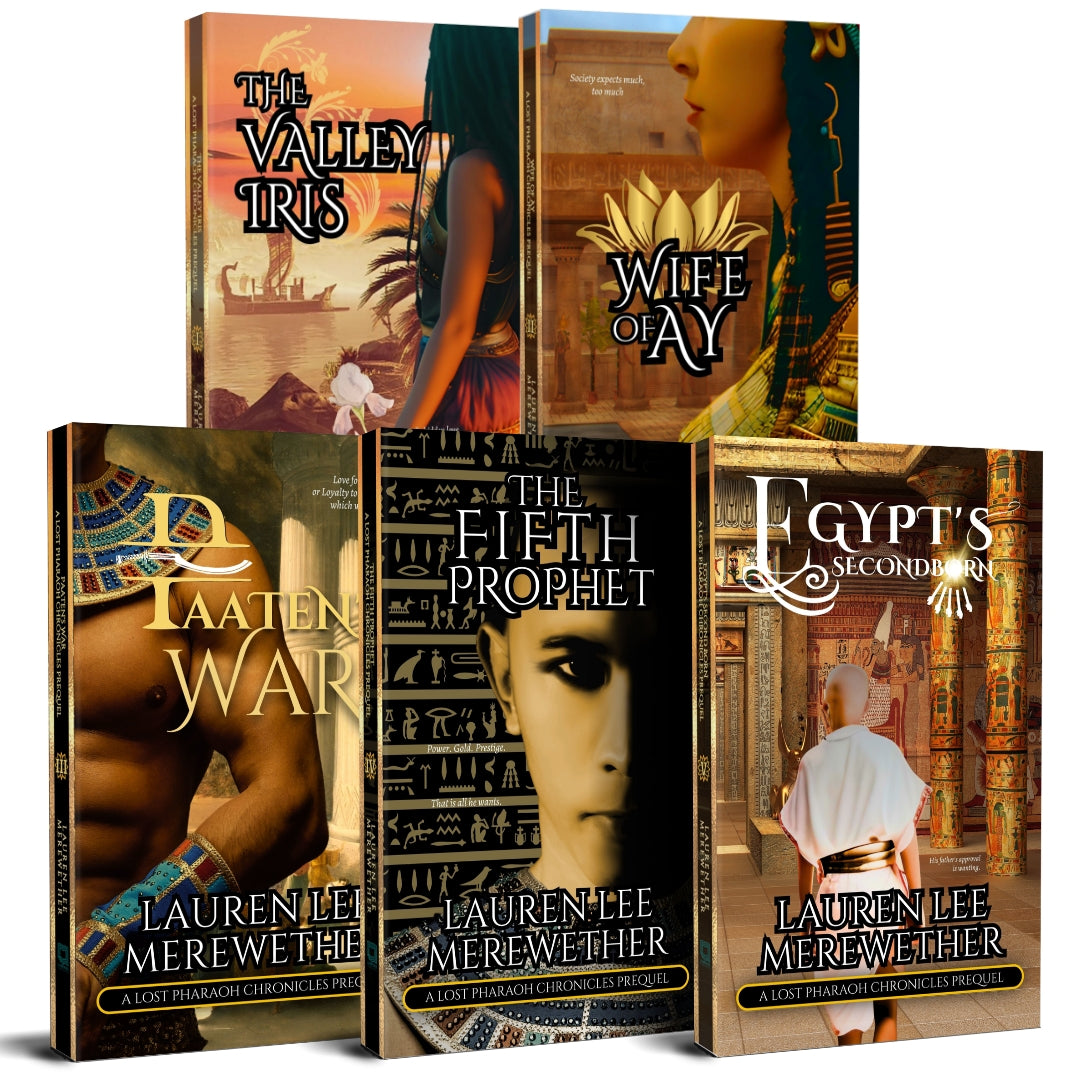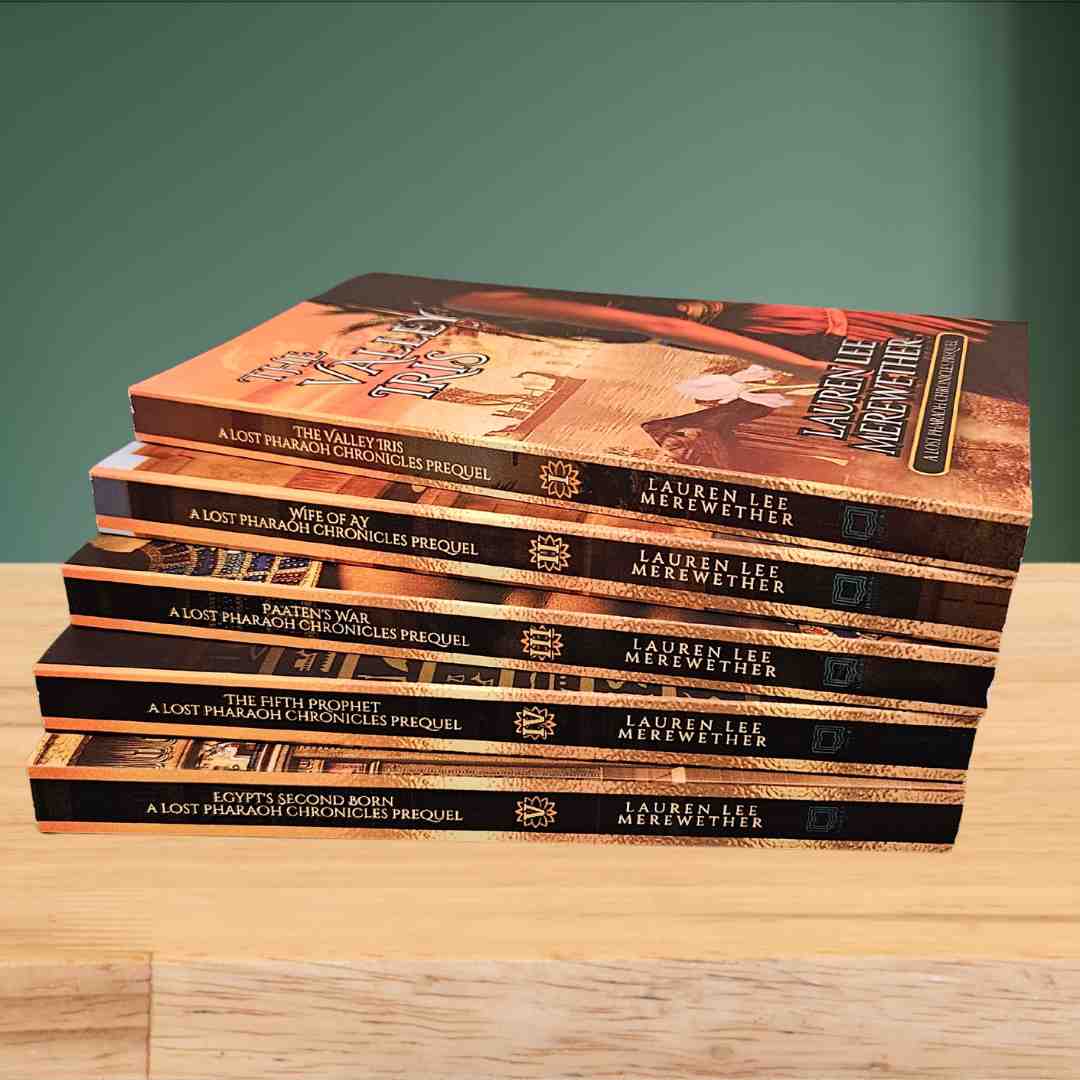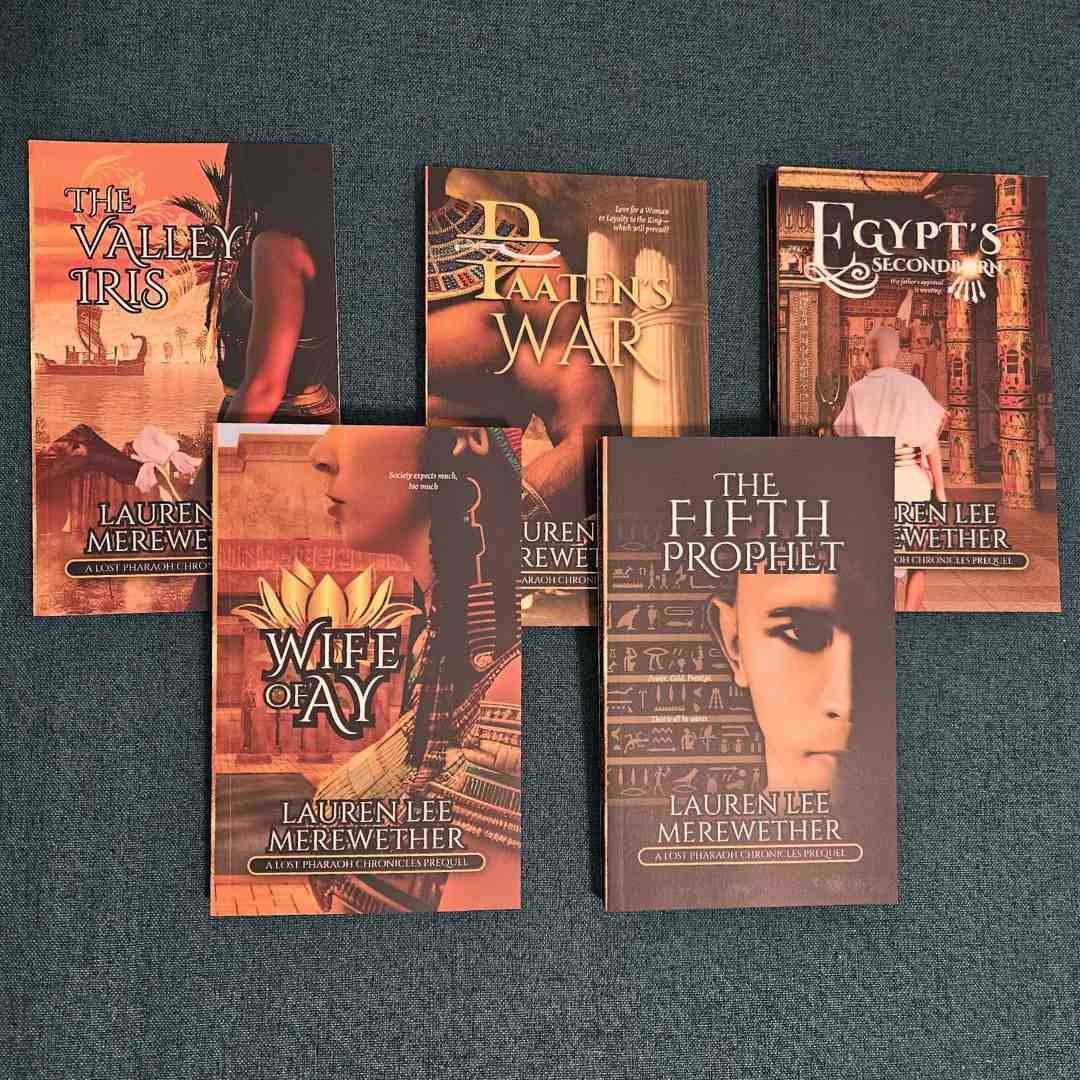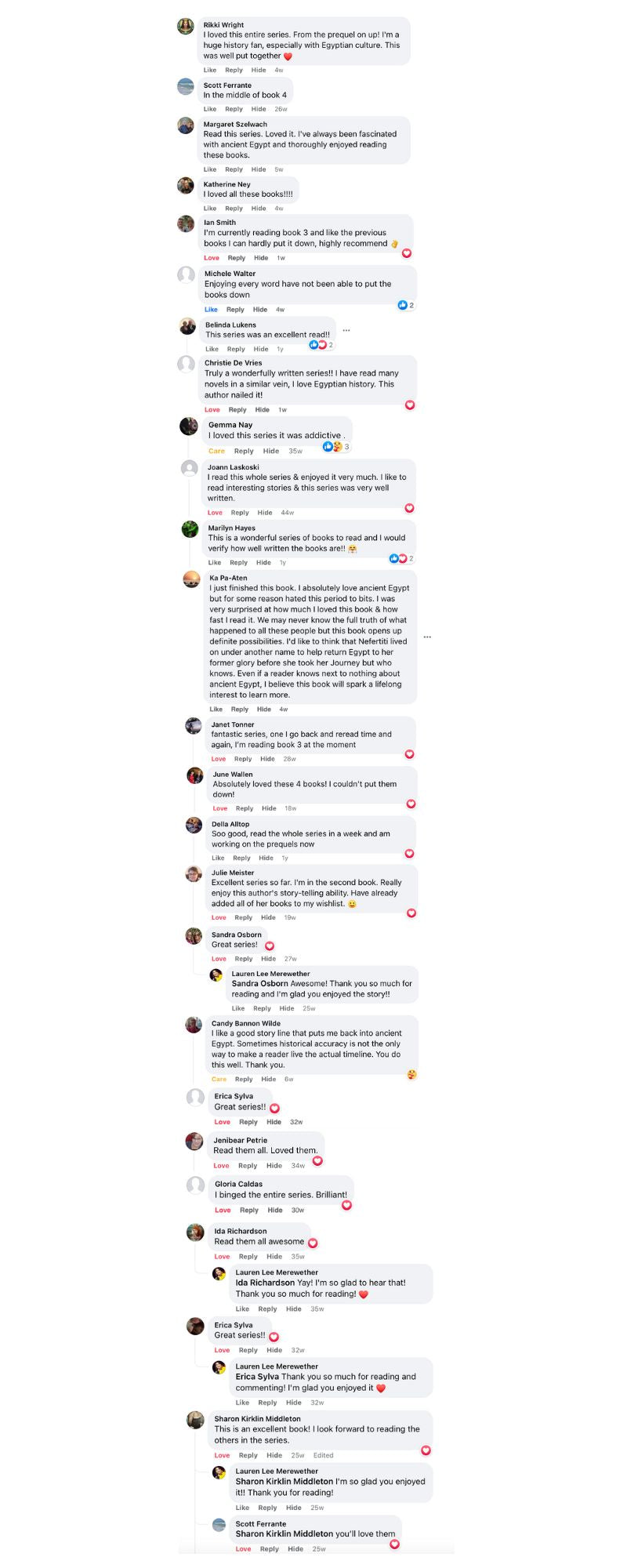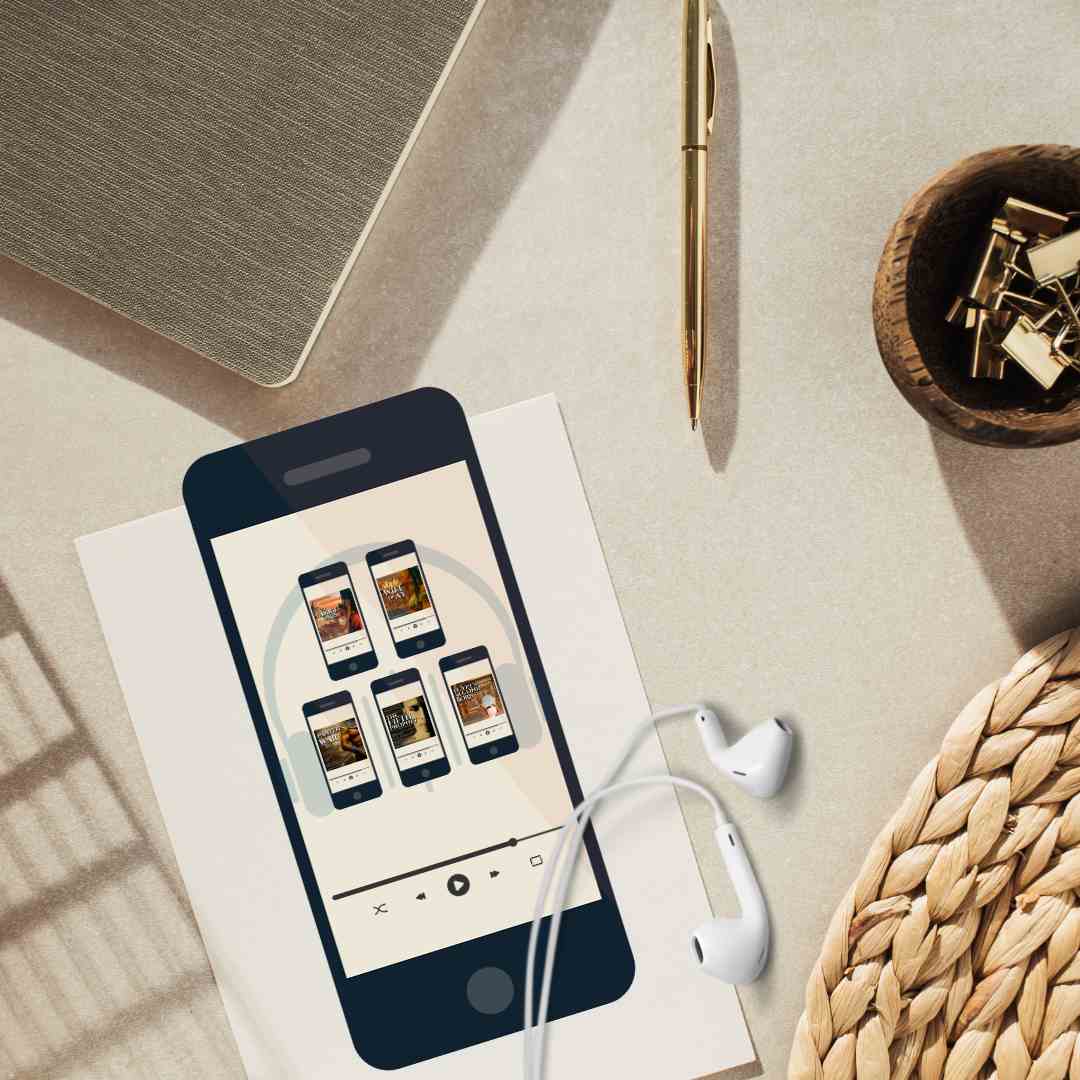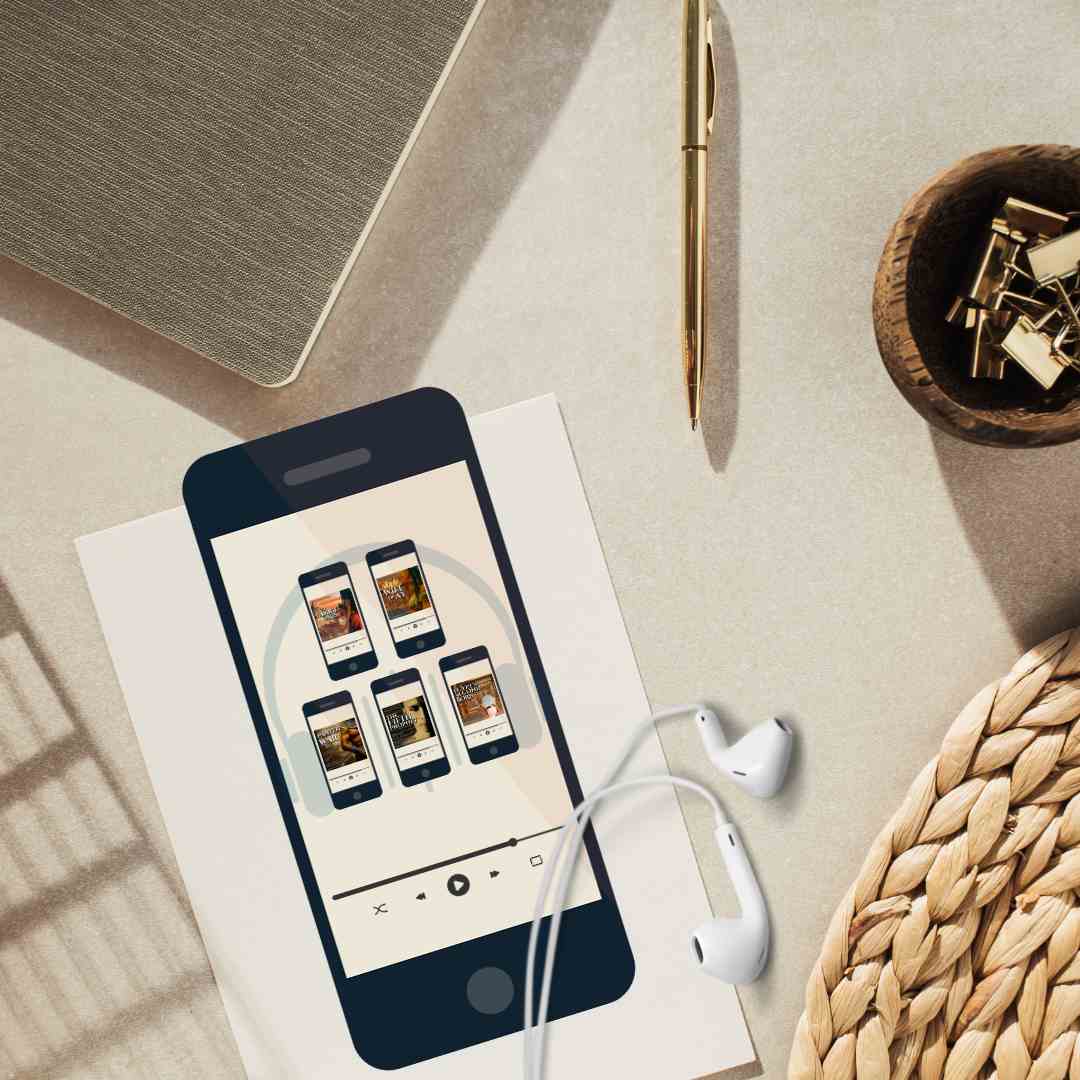 PRAISE FOR THE PREQUEL COLLECTION
(★★★★★)

"The Valley Iris relentlessly pulled me through its pages...truly riveting and mesmerizing...a spectacular and noteworthy historical novel!" -Jessica Barbosa for Readers' Favorite

(★★★★★)

"...a heartwarming tale of struggle, love, deception, and resurrection.The Valley Iris is a wonderfully written story, filled with details of life set in ancient Egypt." -Teresa Syms for Readers' Favorite

(★★★★★)

"Author Lauren Lee Merewether really captivates audiences in this unique story about coming of age, and what it would mean to do so during this fascinating ancient historical period...highly recommendThe Valley Irisfor any reader looking to get into this historical fiction period and those who already adore it." -K.C. Finn for Readers' Favorite

(★★★★★)

"...Wife of Ay is truly, absolutely phenomenal. Ten out of ten..." -Jessica Barbosa for Readers' Favorite

(★★★★★)

"...a short but sweeping tale of family life for upper-class society in this period of Egyptian history..."- Grant Leishman for Readers' Favorite

(★★★★★)

"Author Lauren Lee Merewether delivers another fantastic and engaging slice of ancient history with this immersive and emotive novel. One of the things which I really admire about Merewether's work is her ability to take figures from history and get into the core of their humanity, thereby making them highly relatable to us in contemporary times." - K.C. Finn for Readers' Favorite

(★★★★★)

"...another brilliant and exciting work from The Lost Pharaoh Chronicles...Paaten's War is an ingenious historical fiction novel with a solid story structure and a distinctive plot that would capture anyone's attention from the very first chapter." - Jessica Barbosa for Readers' Favorite 

(★★★★★)

"..this book grabbed me from the very beginning and carried me along on a rollercoaster of emotions and frightening scenarios..." - Grant Leishman for Readers' Favorite

(★★★★★)

"Author Lauren Lee Merewether does a phenomenal job of capturing the essence of the Egyptian and Hittite cultures in her narrative, and it makes for a rich and immersive reading experience." - Pikasho Deka for Readers' Favorite 

(★★★★★)

"The Fifth Prophet twists the heart...a unique insight into a villain's mind and motives..." -Jessica Barbosa for Readers' Favorite 

(★★★★★)

"There is power in the narrative...a whole sensory experience...Pawah's story is jarring yet moving..." ​-Rabia Tanveer for Readers' Favorite

(★★★★★)

"...a highly immersive and character-driven work of fiction with plenty of dark dramatic twists...follow the rise of a villain with such close emotion, investment, and even sympathy for this devilish character. I would highly recommendThe Fifth Prophet to fans of historical thrillers, emotive and dark origin stories, and for Egyptophiles everywhere."- K.C. Finn for Readers' Favorite

(★★★★★)

"Egypt's Second Born offers a compelling journey back into the first great civilization of humanity and shows us the structure and societal shape that made the Egyptians so dominant in that span of millennia but would also play a part in its ultimate downfall." -Grant Leishman for Readers' Favorite 

(★★★★★)

"...an exceptional, fascinating, and distinctive historical novel...truly superb." -Jessica Barbosa for Readers' Favorite 

(★★★★★)

"...another highly compelling historical family drama that has plenty of highs, lows, and relatability to offer its readers...One of the things which never ceases to amaze me when I review Merewether's works is the innate sense of humanity that runs through her characters, drawing parallels with modern emotions so that we can relate to lives quite unlike our own." -K.C. Finn for Readers' Favorite