When Nebetah, Nefe, Paaten, Ankhesenamun, and Sennedjem are written out of the main Lost Pharaoh Chronicles series, their stories do not end.
Read the complement collection after each of its main series counterpart to continue the saga of the lost pharaohs.
Dive into the world of the bestselling saga, The Lost Pharaoh Chronicles, and discover why readers are raving about this series. The bundle includes the three 🌟🌟🌟🌟🌟 complement books (plus the bonus ending to King's Daughter) with 300+ collective ratings on Amazon and Goodreads.

Dive into Ancient Egypt today! Buy now and 💰 SAVE 💰 on this exclusive complement collection bundle.
Regular price
$23.97 USD
Sale price
$14.95 USD
Unit price
per
Sale
Sold out
Purchase eBook Bundle

Instantly Receive Download Link via Email

Enjoy on any Device or the Free BookFunnel app
For Direct Paperback Purchase

Exclusive Cover and Interior Formatting

Shipped Directly From Print Service to You
Main Tropes and Themes
Refugee Survival

Greed & Jealousy

Friends-to-Lovers
Coming-of-Age

Prisoner of War

Tragic Rose
Secrets & Scars

Found Family

Bittersweet Endings
The Complement Bundle includes:
Exiled

Exiled is an intense and dramatic thriller; a story of murder, corruption, infanticide, and abuse set in the New Kingdom of Egypt.

​He has killed before; why should taking the life of Pharaoh be any different?

There are only three people who stand in Pawah's way to the "divine" crown: Pharaoh and his two sons. As Fifth Prophet of Amun, Pawah has access to gold, a corrupt power shrouded in secrecy, and the heart of young Princess Nebetah.

Will Pawah successfully twist these advantages to his favor? How will he ensure Nebetah's loyalty when his plan to eliminate Egypt's royals and seize the crown comes to fruition?

Dive into this dark drama chronicling The Lost Pharaoh Chronicles series villain and his vile deeds from book one, Salvation in the Sun. 
King's Daughter

Nefe, the innocent daughter of Nefertiti, flees her perfect palatial home to escape the clutches of a madman obsessed with usurping the throne.

Her mother, the Pharaoh of Egypt, is betrayed and murdered; her last living sister abandons her for a fool's errand, sure to end in death. Nefe is left alone and stripped of everything she once knew. 

Under the protection of General Paaten, Aitye—her mother's steward—and a mysterious man named Atinuk, they narrowly escape the corruption in the great sun city and head toward an unknown future in a foreign land.But the road is fraught with danger, from vicious seafarers to Hittite soldiers.

To come away with their lives, the quartet must navigate the secrets and shattered lives each carries. Can they learn to trust each other and embrace their future as refugees, or will their pasts tear them apart amid the treacherous journey?

Join Nefe, Paaten, Atinuk, and Aitye in this gripping coming-of-age drama set in the New Kingdom of Egypt.
A New Dawn: The Bonus Ending to King's Daughter

***SPOILERS in Book Description***

Isolated and alone, or is she?

Far from her homeland of Egypt, Nefe must adapt to Canaan and learn to live the rest of her life in Damaski.

Can she accept Panna as her sister? Can she befriend Paebel and learn Akkadian? Will Niwa accept her into the estate she had built in Paaten's absence?

Find out in A New Dawn, a story of love, trust, and healing—a bonus ending to King's Daughter. 
Nefertiti's Legacy

Pain lives in the palace; rest and peace will never befall her there.

Determined to escape the horrors of her past, Ankhesenamun leaves Egypt to find her sister in the vast lands of Canaan and begin a new life with a man she might love one day. However, the neglect of her father has caused Canaan to fall into a tyrannical state, full of oppressive kings and raiding brigands. 

After cursing the gods and forsaking her divine duty as Hereditary Princess, has Ankhesenamun further doomed their search and rendered any true escape from her past impossible?

In conclusion to The Lost Pharaoh Chronicles saga, Nefertiti's Legacy is a dramatic tale of a woman's struggle to find peace, inner strength, and the love her mother wanted for her.
More Details
Content Disclaimers

Author Rating:

The author rated this book for ages 14+ for violence, closed-door romance, child loss, child harm, parental favoritism, abuse, PTSD, underage drinking (period appropriate), and adult themes. 
Other Purchase Options

Individual ebooks are also available from your book retailer for their retail price.

However, the bundle is exclusive to the LLMBooks shop.
Share
View full details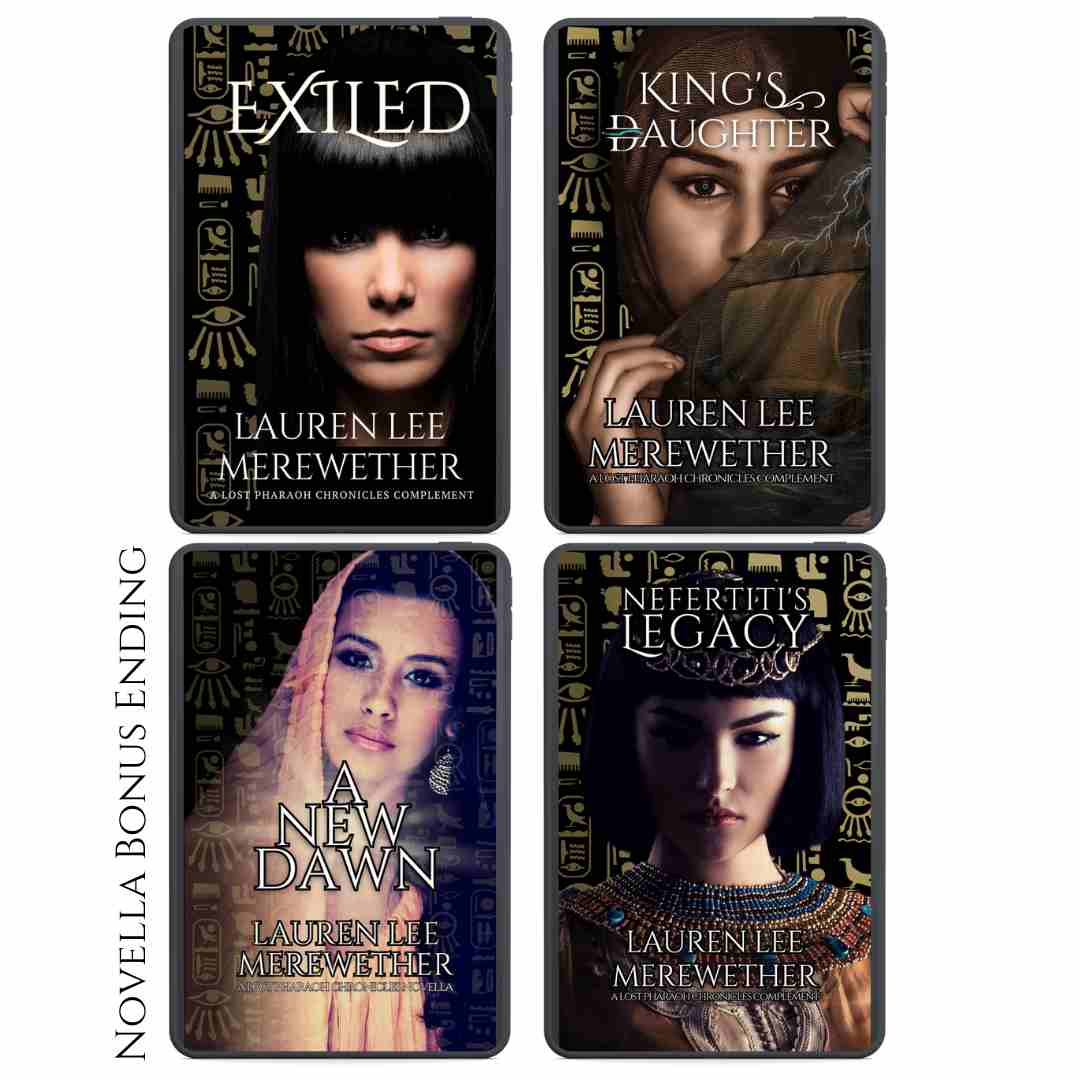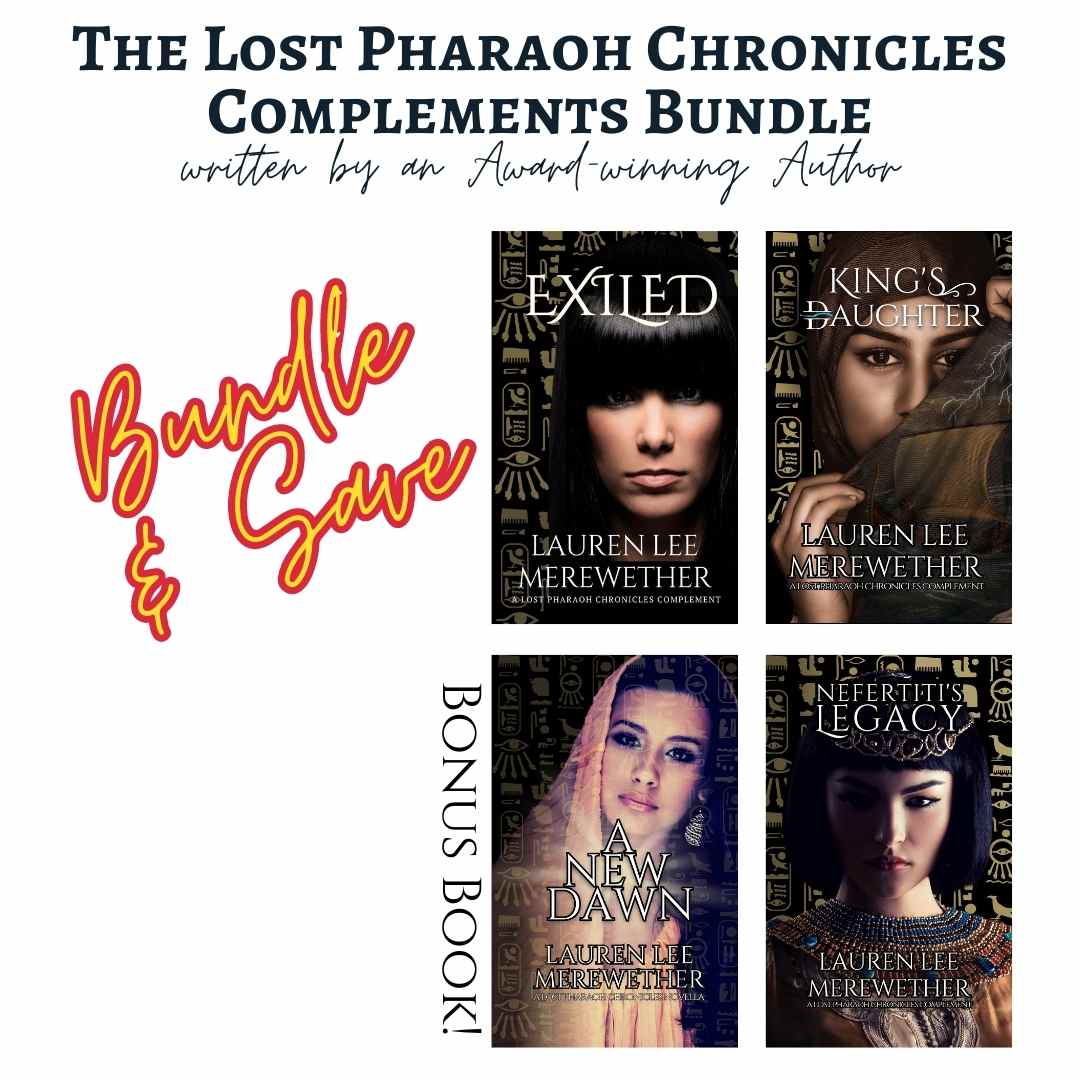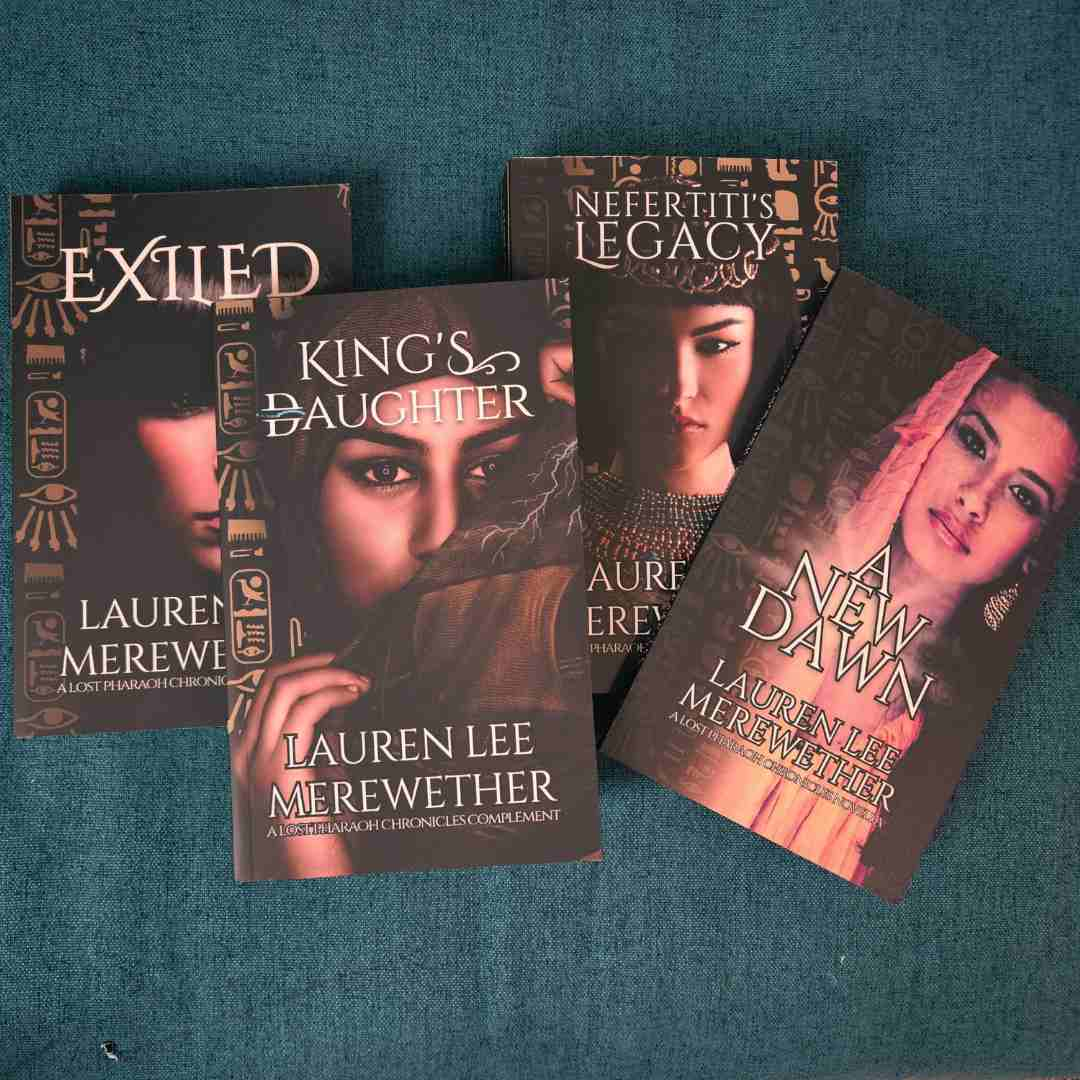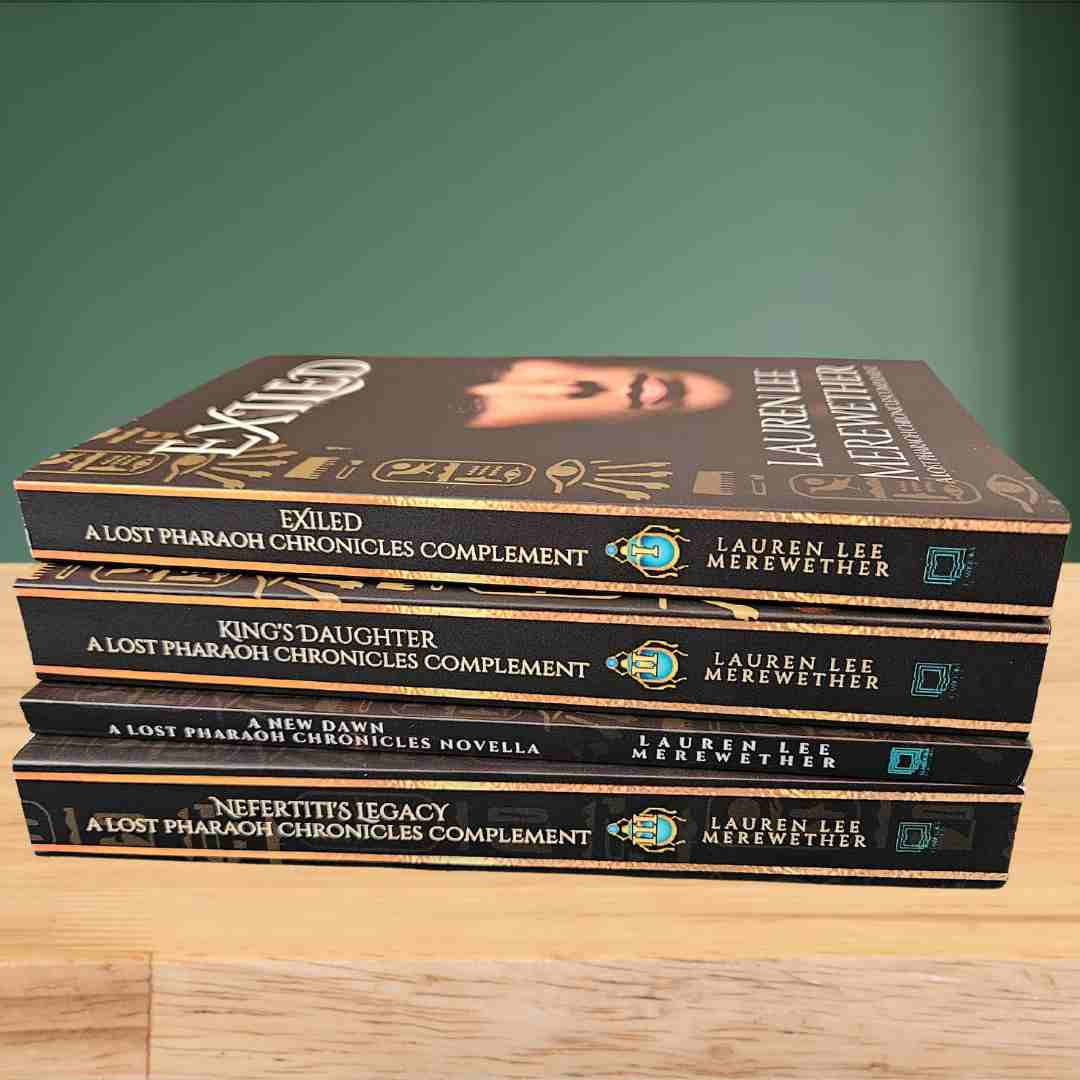 PRAISE FOR THE COMPLEMENT COLLECTION
(★★★★★)

"Exiled by Lauren Lee Merewether is a masterpiece! It's a thorough blend of fact and fiction coming together to make a fantastic story." - Jennifer Ibiam for Readers' Favorite

(★★★★★)

"Author Lauren Lee Merewether delivers a historical fiction novel set in the New Kingdom of Egypt, but with the kind of cinematic and emotional accessibility that will suit the modern reader well...The central figure Pawah is compelling and flawed, making an engrossing character for us to follow...fast-paced and exciting..."- K.C. Finn for Readers' Favorite 

(★★★★★)

"...spine-tingling, mind-blowing novel with its unique and unforgettable plotline and exceptional characters...dramatic and thrilling" - Jessica Barbosa for Readers' Favorite 

(★★★★★)

"King's Daughter is a tale of survival, wit, deceit, trust, greed, and sacrifice. The plot of this story was unique and felt so real, showing ancient Egypt through the eyes of Nefe and Paaten. The development was perfect, and the characters were consistent with their moods. I enjoyed the simple writing style and flowing dialogue." - Jennifer Ibiam by Readers' Favorite 

(★★★★★)

"An action-packed story, this is all about survival against all odds. The main characters were exceptionally well-developed and the story was paced and flowed smoothly." - Anne-Marie Reynolds by Readers' Favorite

(★★★★★)

"The Lost Pharaoh Chronicles series blew me away with its complex plots and incredible characters. I had high hopes of Lauren Lee Merewether delivering a similar experience with King's Daughter. However, it was not the same; it was infinitely better. Nefe's character was compelling. She was innocent in all this mess, yet she had to make decisions that she never thought she would. She literally had to mature mentally and physically if she wanted to survive. This struggle for survival, the fear that her protector would turn on her, and the unpredictability of finding shelter in Canaan all shaped Nefe into a strong woman. The narrative was perfectly paced, the action was always present, and the descriptions made me feel like I was in Egypt with Nefe. Intricate, descriptive, and entertaining!!"  - Rabia Tanveer by Readers' Favorite

(★★★★★)

"...young Nefe is confused, angry, and mourning the loss of her family. Will she be able to come to terms with all that has happened, or will her grief envelop her and leave her unable to thrive in a new land? ...very human element...Merewether very clearly has a passion for this time period in history." - Heather Osborne by Readers' Favorite

(★★★★★)

"Having read many of the fantastic books in The Lost Pharaoh Chronicles over the years, I am always delighted to engage with another touching and realistic drama from author Lauren Lee Merewether, who has once again crafted a knockout work of fiction with plenty of pathos, grit, and inspiration to offer readers." - K.C. Finn by Readers' Favorite

(★★★★★)

"If anybody ever needs a good dose of intense emotions, Nefertiti's Legacy by Lauren Lee Merewether is the book for them." - Ankita Shukla for Readers' Favorite

(★★★★★)

"In the tradition of Christian Jacq, Merewether comes across as not only a gifted storyteller, but an Egyptologist who brings the ancient world to life...A breathtaking conclusion to The Lost Pharaoh Chronicles saga...The writing is gorgeous and littered with strong imagery, the characters are elaborately written, and the plot is suspenseful. Nefertiti's Legacy is an engaging tale that features stellar storytelling; one of the finest books I have read..." - Divine Zape for Readers' Favorite

(★★★★★)

"This novel featured themes like loyalty, deception, honor, perseverance, valor, patience, and enduring love. It boasted a unique plot with depth that kept me locked in until the last page." - Jennifer Ibiam for Readers' Favorite

(★★★★★)

"As always, author Lauren Lee Merewether outdid herself...I could not have asked for a better conclusion to a fantastic series!"  - Rabia Tanveer for Readers' Favorite